Experience Coffin Bay and Eyre Peninsula Forage and Feast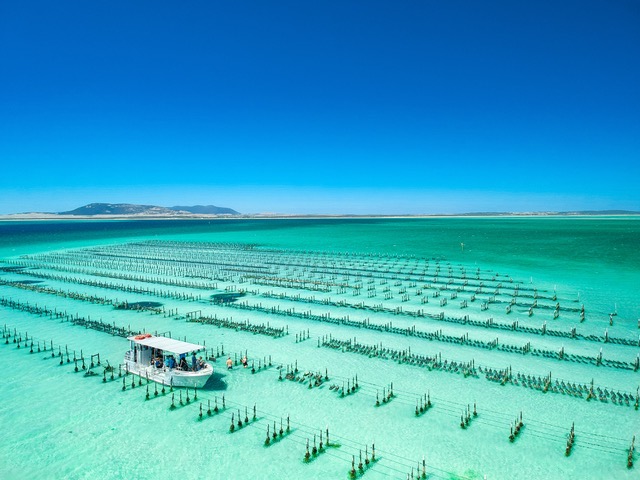 Duration: 6 Hours (approx.)
Location: Coffin Bay, South Australia
Product code: EXBFF
It's a seafood long lunch affair. Relax on our new purpose built tour boat, watch the water and natural coastline as we cruise along to our first stop on our Experience Coffin Bay and Eyre Peninsula Forage and Feast. Coffin Bay is home to the world famous Coffin Bay oysters so visiting a farm to harvest farm fresh oysters is a given on this tour. But there is so much more to feast upon. Mussels don't grow in Coffin Bay but we have local farmers in Boston Bay Pt Lincoln so we will make sure these are on board to enjoy fresh and poached. Southern Rock Lobster from our local waters is seasonal but when available will be freshly cooked on board. Abalone is a local delicacy we will make sure its fresh to enjoy. Spencer Gulf King Prawns from our Pt Lincoln fleet will be freshly cooked to enjoy. Sea Urchins and Vongole are sourced in the waters of Coffin Bay. Port Lincoln is renown for its Blue Fin Tuna, that will be included on tour. Kingfish is another local delicacy so you won't want to miss out on this either as part of your feast. I am hoping I haven't missed anything in this lengthy description but there is so much to enjoy. This feast is a chance for you to relax, refresh and recharge. As we cruise along we will take our time enjoying all that our local area has to offer. Remember its a seasonal feast. We will endeavour to have everything on board every time but if we can't source something we will let you know. If there is a particular seafood that you are wanting to make sure is seasonably available for your tour please reach out to us to check. As part of this tour you can indulge on local wines and local beers at your leisure.
WE REQUIRE A MINIMUM OF 2 PEOPLE FOR THIS TOUR SO IF YOU BOOK WE WILL ADVISE YOU AT BOOKING TIME IF WE HAVE THE MINIMUM NUMBERS. WE WILL ATTEMPT TO FILL THE MINIMUM. WE WILL REFUND YOU IF THE MINIMUM REQUIRED IS NOT MET AND WILL KEEP YOU INFORMED ABOUT ALL OF THIS. IF YOU ARE PURCHASING FLIGHTS AND WANT YOUR TOUR CONFIRMED PRIOR PLEASE CONTACT US TO MAKE THIS HAPPEN.
As this is a boat tour please remember to dress appropriately for the weather. It can turn cold quickly so a warm jacket and beanie is advisable. Even on a sunny day the wind blowing over the water can quickly become very cold. Sunscreen, sunglasses and camera should be on your list of things to bring.
**Please meet us at the Coffin Bay Boat Ramp opposite Greenly Avenue as this is where the boat tours depart from**

If we are not showing the day or time that would suit you please contact us direct as we certainly will try to accomodate your request. Occasionally we might have a few oyster bags to return to the water, if your booking is a special occasion and you don't want this to happen please let us know.
IF YOU ARE CONCERNED ABOUT BOOKING ONLINE WITH THE AUTOMATIC PAYMENT AND MINIMUM NUMBERS YOU CAN ALWAYS PHONE TO BOOK AND DELAY PAYMENT UNTIL MINIMUM NUMBERS ARE CONFIRMED.
**Children under 13 yrs strictly not allowed on this tour**